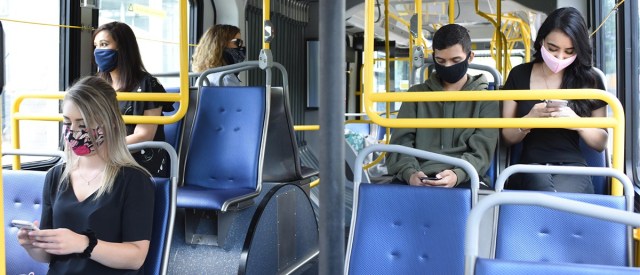 Update: November 26, 2020
On November 19, 2020, the Minister of Public Safety and Solicitor General mandated that facial coverings be worn in all indoor public places.
The Ministerial Order exempts persons from wearing masks in some circumstances. The full order can be found here: https://www.bclaws.ca/civix/document/id/mo/mo/m0425_2020
Transit Police will enforce the Ministerial Order and can issue fines of $230, subject to the exemptions set out in the provincial order.
We ask customers not to attempt to enforce the Ministerial Order themselves but rather to contact either TransLink Customer Information or Transit Police. Your report will help us determine where to deploy resources as Transit Police enforces the Provincial Order.
---
Posted on August 21, 2020
Starting on Monday, August 24, everyone on board a transit vehicle will be required to wear a non-medical mask or face covering.
Metro Vancouver Transit Police supports TransLink's current approach focused on education and not enforcement. Enforcement action may be considered at a later date once the impact of the new mandatory mask rule is seen.
Details of the new policy can be seen here: https://new.translink.ca/rider-guide/coronavirus-precautions
Questions or comments regarding the policy can be directed here: https://new.translink.ca/feedback