Recruit Police Officers
You'll be trained at the Justice Institute of BC, alongside B.C. municipal police. You will receive all the required training to become a police officer in British Columbia. During your field-training, you will have a Transit Police field coach who will provide instruction specific to our unique service.
The Office of Constable

The appointment of a constable, coupled with the oath of office, is a role unlike any other in our society. It's not just a rank but a responsibility that a police officer will carry out their duties to the best of their ability and to the highest standards of integrity in all personal circumstances. Constables protect the public, operating within and always accountable to the rule of law.
Constables are expected to carry out their duties and impartially uphold the law, treating all they encounter fairly. The constable's duty to their office and to the public applies while on and off duty, twenty-four hours a day, seven days a week.  We are looking for the best candidates to take on this important role.
Be prepared to sign up for not just a career change, but a lifestyle change.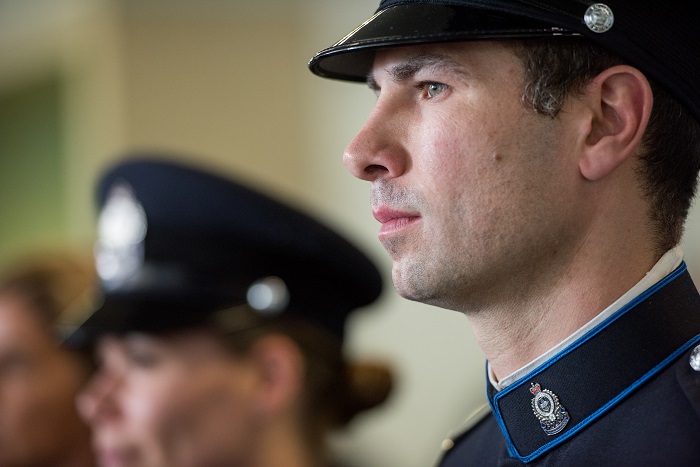 In order for us to consider your application you must be able to meet the following basic qualifications:
Minimum age 19 years
No criminal record for which a pardon has not been granted
No adult criminal charges pending
Canadian Citizen or Permanent Resident
Meet out visual acuity and hearing standards
30 credits of academic post-secondary education from a recognized university or college
Work experience in a related field may be considered in lieu of post-secondary education
Keyboarding certificate of 25 words per minute required
A demonstrated fit and healthy lifestyle
Ability to successfully undergo an extensive background investigation involving workplace, personal, financial and neighborhood enquiries
A valid Class 5 driver's license with a good driving history
Good interpersonal skills
Valid First Aid Certificate
Excellent verbal and written communication skills
Transit Police is always very interested in applicants who possess additional skills.  See preferred qualifications below.
Preferred Qualifications
Serious consideration is given to applications which meet both the basic qualifications and have additional experience. Community volunteer experience is considered an asset. Applicants are encouraged to obtain volunteer experience with a Police Department Community Services section (i.e. Block Watch, Victim Services or Police Auxiliary/Reserve program) and/or other local community services. Volunteering helps applicants to better understand the communities that we serve.
Previous work, life and educational experience along with the individual's level of maturity are also taken into consideration.
Preferred Qualifications:
A degree, diploma or other certification in any field of study
Knowledge of a second language or culture
Community volunteer experience
The recruiting process is a process that reviews the qualification of a candidate to make sure only the best qualified candidates are selected. The process is very competitive. Of all applications received during the year only a handful are offered a position. Candidates who possess only the basic requirements may not advance through the levels of recruitment as other candidates may be more competitive.
Applicants will be subject to the following steps. These steps may not be in the specific order listed.
Written Exam – A successful result from another police exam may be accepted.
POPAT – Transit Police will accept recent POPAT results from other police agencies.
Completion of a background questionnaire – This questionnaire covers all aspects of your history. It includes answering questions that may be uncomfortable. We understand that many people have had issues in their past that they are not proud of. For the most part these issues will not prevent you from becoming a police officer given the context and length of time since the event. A failure to disclose these items in most cases will prevent the candidate from proceeding in the recruitment process.
Medical Exam
Psychologist interview
Polygraph
Background investigation
Physical Abilities (POPAT) Test
This test is meant to simulate a physical challenge typical to the job – specifically a foot pursuit ending with a struggle to apprehend a subject. If you are not prepared, the test can be a very challenging aerobic exercise. Police Officer Physical Ability Test (POPAT) testing takes place at two private facilities. You do not have to be invited by us to take the test. If you have applied, or you are considering applying to become a police officer, it is your responsibility to complete a successful and competitive test result.
Salary and Benefits
Benefits
Membership in the Transit Police Professional Association (mandatory)
Provincial Superannuation Plan
Physical training facilities
Employee and Family Assistance Program (EFAP)
Continuing education subsidies
Dental and Vision Care Plan
Group life Insurance
Basic and Extended Health Plan
Employee unlimited transit pass, spouse/dependent pass
Police Constable Salary Scale
| | | |
| --- | --- | --- |
| | Monthly | Annual |
| Recruit Constable | 5,428 | 65,136 |
| Designated Constable 4th Class | 6,031 | 72,372 |
| Designated Constable 3rd Class | 6,408 | 76,896 |
| Designated Constable 2nd Class | 6,785 | 81,420 |
| Designated Constable 1st Class | 7,539 | 90,468 |
| Designated Constable Level I (10 years) | 7,916 | 94,992 |
| Designated Constable Level II (15 years) | 8,293 | 99,516 |
| Designated Constable Level III (20 years) | 8,670 | 104,040 |
| | | |
| As of April 1, 2015 | | |
| (Contract expired December 31, 2015. Compensation negotiations ongoing/in progress) | | |
Cost and Fees
The following are costs you can expect to incur as a result of gathering the required resources to submit with your application package. The following prices are estimates based on an applicants located within the Province of British Columbia
Vision exam: $88.00
Proof of typing speed: $20.00
Academic transcripts: $6.00 to $10.00
Basic First Aid and CPR (unless already certified) $85.00
POPAT: $60.00 – 80.00
Transit Police do not provide reimbursement for any costs. Please note, at any point during the process your application can be removed for failure to successfully complete any part of the recruiting process.
Upon a successful application process and an invitation to attend the police academy, you are expected to pay tuition for Block I and Block III of training. Loans are made available through the Vancouver Police Credit Union, if needed.
Training
If you are successful with your application and offered a position with Transit Police, you will be sworn in and start work prior to attending the Justice Institute of BC Police Academy in New Westminster.
You'll be trained at the Justice Institute of BC, alongside B.C. municipal police and receive all of the training required to become a police officer in British Columbia. During your field-training, you will have a Transit Police field coach who will provide instruction specific to our unique service.