Meet the MVTP Community Engagement Team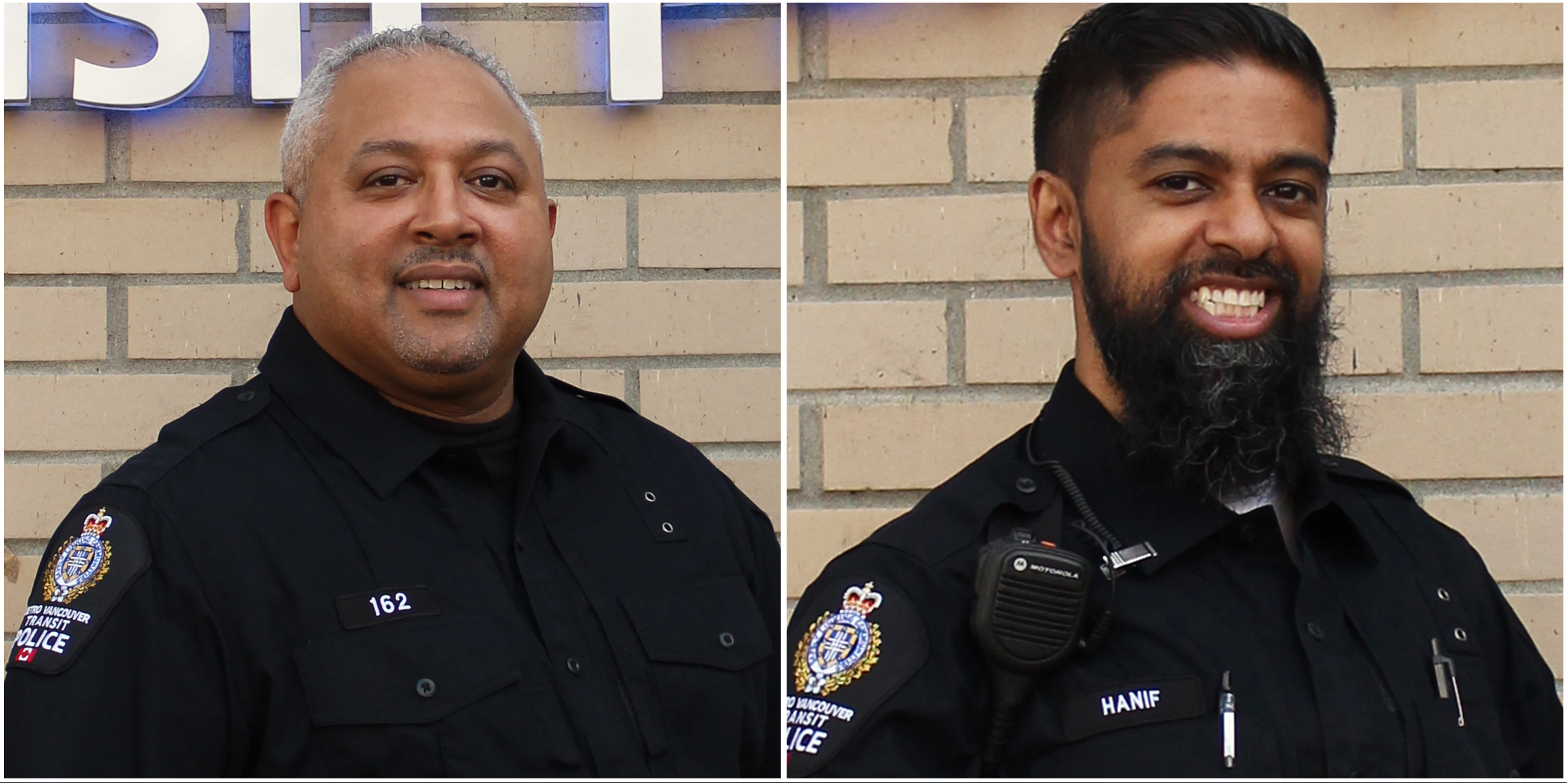 Community policing is at the heart of everything we do at Metro Vancouver Transit Police (MVTP). Our approach is exemplified by the Community Engagement Team (CET). Each member of the team has a unique combination of skills and life experience that allow them to connect with the communities they serve. Last week, the CET welcomed two new members.
---
Constable Shiraaz Hanif joined the team as the Neighbourhood Police Officer (NPO) for East Vancouver and the North Shore. Cst. Hanif is no stranger to building relationships on behalf of our department, having spent years working to strengthen the relationship between MVTP and the Muslim Community (of which he is a member). He takes over the NPO role from Cst. Kirk Rattray, who moved into the role of Indigenous Liaison Officer. Follow Cst. Hanif on Twitter.
---
Constable Miles Teitelbaum joined the team as the NPO for New Westminster and South Burnaby. Cst. Teitelbaum previously worked on the CET in a temporary role that included participating in the Lower Lonsdale Project. Cst. Teitelbaum is taking over the NPO role from Cst. Justin Biggs. Follow Cst. Teitelbaum on Twitter and Instagram.
The two new members join seven other Transit Police officers that round out the team.
---
Sergeant Cheryl Simpkin heads the Community Engagement Team. She is influenced in her work by her Indigenous heritage and background in working with people who are affected by challenges with mental health or addiction. Follow Sgt. Simpkin on Twitter.
---
Constable Kirk Rattray is the MVTP Indigenous Liaison Officer. He draws on his Tahltan First Nation heritage to bring understanding between police and indigenous people in the region MVTP serves. In addition to building relationships with Indigenous communities, Cst. Rattray provides training for Transit Police officers and direction for our department on Indigenous issues. Follow Cst. Rattray on Twitter.
---
Constable Gwen Ranquist works in Client Services, providing expertise in issues related to mental health. Vulnerable people rely on the transit system to get them where they need to go and Cst. Ranquist is there to ensure they can do so safely. Follow Cst. Ranquist on Twitter.
---
Constable Julien Ponsioen is the NPO for downtown Vancouver. A former paramedic, he ensures that every Transit Police officer and civilian employee is trained on how to administer Naloxone. He also serves as the department's liaison to the LGBTQ2S+ community of which he is a part. If you're interested in learning more about the upcoming launch of our first Community Policing Centre, follow Cst. Ponsioen on Twitter, Instagram and Facebook.
---
Constable Bruce Shipley is the NPO for Richmond and Vancouver's West Side. With an interest in the issues that affect vulnerable people, such as those who are homeless, Cst. Shipley is on the frontlines offering outreach and resources. Follow Cst. Shipley on Twitter.
---
Constable Darren Chua is the NPO for Surrey and Langley. Currently, however, he is on temporary assignment working as part of the Integrated Quarantine Act Response and Support Team (IQARAS), ensuring that the Province's Covid regulations are being followed. The rest of the CET is looking after Cst. Chua's area in his absence. Follow Cst. Chua on Twitter and Instagram.
---
Constable Nicole Dennis is the NPO responsible for municipalities that stretch from North Burnaby to the West Coast Express Station in Mission, including the Tri-Cities, Belcarra, Anmore, Pitt Meadows and Maple Ridge. A certified Drug Recognition Expert, Cst. Dennis focuses on traffic and pedestrian safety around transit hubs. This year, Cst. Dennis joined with other first responders to raise money for the fight against childhood cancer as a Cops for Cancer: Tour de Coast participant. Follow Cst. Dennis on Twitter.