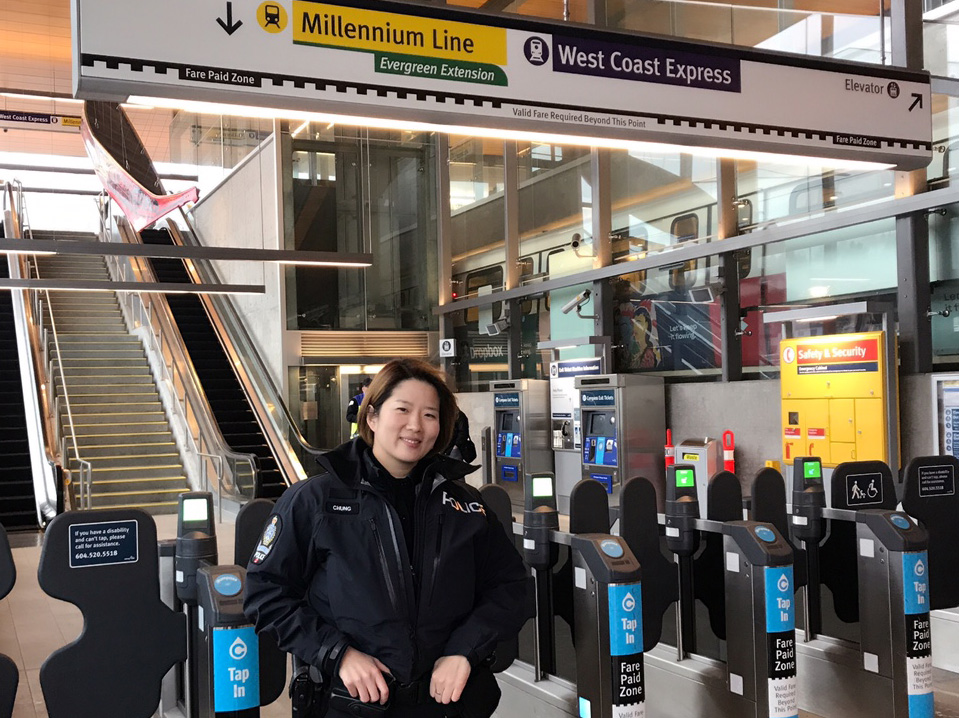 Written by Cst. Jenny Chung, NPO for North Burnaby, Coquitlam, Port Moody, Anmore, Belcarra, Port Coquitlam, Pitt Meadows, Maple Ridge, and the West Coast Express in Mission.
As a Neighbourhood Police Officer (NPO) for what we call a "Hub Area" in the northeast of Metro Vancouver, which includes the Evergreen Extension and surrounding area, I've been a part of the surrounding community since its opening in December 2016. I still remember getting drenched on opening day, but barely noticing thanks to the enthusiasm of the people who came out to celebrate this incredible new community amenity.
With the opening of the Evergreen Extension came the opportunity for me to further build on our existing partnerships with the Port Moody Police and Coquitlam RCMP. As a result of my assignment to our Hub Area I've had the opportunity to engage with other community groups and agencies like ICBC, Douglas College, and local youth groups, as well as local area businesses and schools. Through my presence at the Lougheed and Coquitlam Centre bus loops I have been able to further strengthen relationships with transit operators who drive CMBC buses on routes in the Tri-Cities.
These new and enhanced relationships have created opportunities for refreshed public safety campaigns, such as focusing on pedestrian safety with ICBC, the Coquitlam RCMP and Port Moody Police in areas around SkyTrain stations. We've had great feedback from the public and I've really enjoyed the positive interactions.
One project I'm proud to have participated in was a joint response to an increase of shoplifting incidents in and around Coquitlam Centre Mall, adjacent to Lincoln Station on Evergreen. Some of the suspects who would steal from area businesses would use the SkyTrain as their means of transportation. I was able to work in partnership with the Coquitlam RCMP, Loss Prevention Officers and my fellow MVTP colleagues to develop a strategy for prevention and enforcement. As a result of our joint policing and security collaboration, we have been able to identify and apprehend several prolific shoplifters, reduce these crimes, and make the transit system safer for our customers and the communities we serve.
One of my favourite things about my job is when I get to engage with the public – I am able to meet new people and get paid for it!