Transit Police's Top 10 Safety Tips for a Safe Ride After the Labour Day Weekend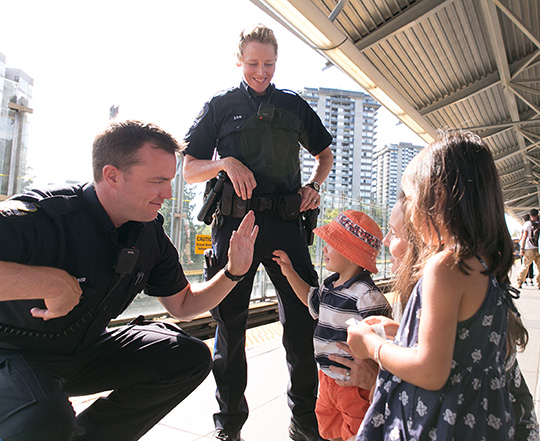 Transit Police is committed to ensuring that everyone has a safe ride on the buses, seabuses and trains in our transit system and reaches their destination safely. With students heading back to school and people heading back to work after holidays, the Transit system will be busier than ever. These are the Transit Police Top 10 Safety Tips For A Safe Ride:
Plan your journey ahead of time and make sure you appear confident.
Stay alert to your surroundings.
Refrain from listening to music or wearing headphones while using the transit system (iPods, cell phones and radios will distract you and could make you a potential target).
Keep all electronic devices and personal items safely stowed, out of sight in closed backpacks, totebags, purses etc. Be especially vigilant when seated or standing near doors.
If placing larger items on the floor during travel, keep the items firmly between your feet, if possible, to maintain control of them.
Know where to get help. There are security options on the trains and platforms. Do not worry about using them if you encounter a problem.
Quietly move away from anyone you feel is a threat or a problem on the platforms, at the bus loops or on the trains or buses.
Look for a Transit Police Officer, Transit Security Officer, a SkyTrain Attendant or an adult if you have a problem or feel threatened. Don't hesitate to ask us for directions or help to find your bus or train. We are there to help.
Use Text code 87 77 77 or the Transit Police OnDuty App to discreetly send us information regarding nonemergency situations on the bus, train or seabus.
Don't Panic! A Transit Police Officer, Transit Security Officer or SkyTrain Attendant is as close as the next station and will assist you.
Metro Vancouver Transit Police is committed to maintaining order, promoting safety and reducing crime on the transit system in Metro Vancouver.