Suspect in Threatening of SkyTrain Attendant with Used Syringe Arrested on Warrant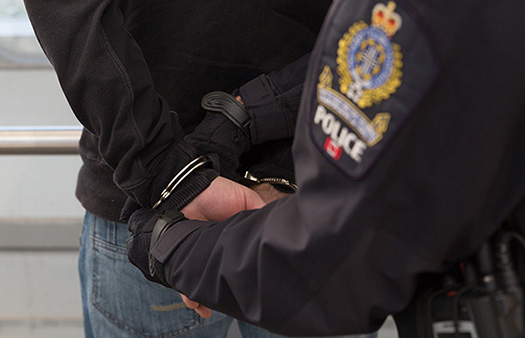 A 35 year old Vancouver man has been arrested on a warrant relating to an incident, on the SkyTrain, where a SkyTrain Attendant was allegedly confronted by a man holding a used syringe who threatened to stab him.
On November 6, 2017, at approximately 10:30 pm, a young woman and her two small children (a toddler and a baby in a stroller) were on the SkyTrain at the Broadway and Commercial Station when a man boarded, with his bicycle, and crouched down next to her. As the train pulled into the Main Street – Science World Station, she saw the man with a needle, containing blood and a white substance, in his arm. She briefly stepped off the train and advised a SkyTrain Attendant (STA) as to what was occurring. The STA boarded the train and, as it left the station, requested the attendance of Metro Vancouver Transit Police over his radio.
The suspect overheard the STA's call for Transit Police and allegedly moved aggressively towards him, holding the used syringe approximately 4 inches from the STA's neck. He allegedly threatened, repeatedly, to stab him with the syringe, for calling the police.
The STA said he had not called the police, causing the suspect to back up slightly. He got off the train at Stadium Station and left the area.
Metro Vancouver Transit Police officers attended and initiated an investigation, which included obtaining photographs of the suspect and were subsequently able to identify him. Metro Vancouver Transit Police recommended charges of Assault with a Weapon and Uttering Threats to Cause Death or Bodily Harm, which were approved by Crown Counsel. An arrest warrant was issued.
On January 10, 2018, Vancouver Police Department officers arrested Kristopher Frederick Kenneth JOYCE on the arrest warrant in Vancouver's downtown eastside. JOYCE is 35 years of age, a resident of Vancouver and very well known to police.
This is an excellent example of collaboration and cooperation between law enforcement partners. We thank the Vancouver Police Department for their assistance in taking this suspect into custody.
We also commend the young woman who alerted the SkyTrain Attendant to the alleged behaviour of this suspect and the additional witnesses who came forward.
Text us directly and discreetly at 87 77 77 or call us at 604-515-8300. See Something, Say Something!