Surrey Man Charged with Multiple Counts after Assaulting Police Officers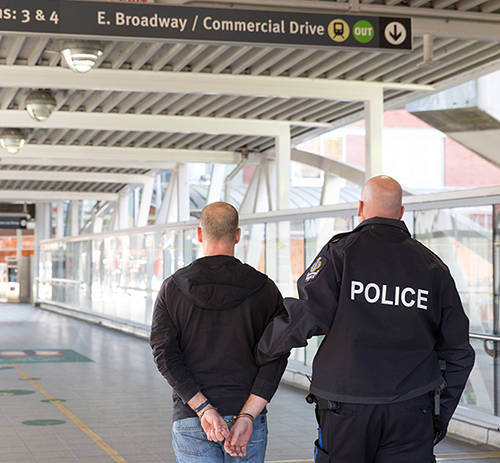 New Westminster – A Surrey man faces multiple charges after assaulting Police Officers during an altercation at Metrotown SkyTrain Station.
On January 29, 2017, at 9:45 pm, Metro Vancouver Transit Police officers, on patrol in Metrotown SkyTrain Station in Surrey, spotted a man on the station platform holding an open bottle of cider and carrying a six pack of additional ciders. As the officers approached the man to speak to him, he smashed the six pack on the floor and without provocation, immediately began to allegedly fight with the officers. During the struggle the man allegedly slapped one officer across the face and grabbed the groin area of another officer.
After the suspect was handcuffed, he continued to struggle and yell at the officers. He was taken down to a waiting vehicle for transport to jail at which point he allegedly spat directly into an officer's face. He was transported to jail where it was determined he was wanted on a Surrey RCMP warrant for Domestic Assault.
Charged with two counts of Assaulting a Police Officer and one count of Willfully Resisting a Police Officer is Adam Brad WATERS, 29 years of age, resident of Surrey, known to police. WATERS made his first court appearance and was released on an Undertaking with conditions that include, Not to be found on any SkyTrain or Canada Line, including any adjacent stations.
The officers suffered no significant injuries other than discomfort; however, it should be noted that spitting on someone is particularly distasteful and carries with it the potential for transmitting a communicable disease. The fear of developing a disease preys on the victim's mind for some time to come.