Public's help sought in identifying violent fare gate assault suspect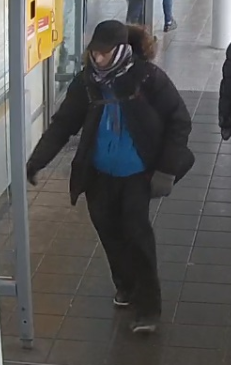 New Westminster – Metro Vancouver Transit Police are asking for the public's help in identifying a suspect who allegedly violently assaulted a man at Main Street-Science World Station.
On January 14th, 2020, at approximately 9:00 am, a man got off the SkyTrain at Main Street-Science World Station and walked toward the fare gates. As he tapped his Compass Card and walked through the open fare gate he noted another man trying multiple fares. This man allegedly yelled at the victim, accusing him of stealing his 'tap', and then head butting the victim. As the victim attempted to fight the suspect off, the suspect allegedly grabbed a metal pipe and hit the victim over the head. The victim yelled for help, the suspect ran off, and a witness immediately called 911. The victim was transported to hospital where he was treated for a concussion and a laceration on his head, which required eight staples.
The suspect is described as an olive skinned male, approximately 30 years old, approximately 5'7" tall, medium build, wearing black pants, a black puffy jacket with fur-lined hood, and scarf wrapped around his neck partially covering his face.
The level of violence this man was willing to use is shocking. All passengers using our transit system have the right to travel without fear of harassment or assault. Transit Police take all such reports seriously and investigate thoroughly. Transit Police would like to speak to anyone with information about the identity of this suspect, or who witnessed this incident. Contact the Transit Police tip line at 604.516.7419 or text us using code 87.77.77, referring to file 2020-1014.
Included here are a photograph and video of the suspect at Main Street-Science World SkyTrain Station on January 14th, 2020.