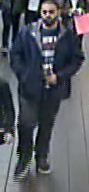 New Westminster – Metro Vancouver Transit Police are asking for the public's help in identifying the suspect in an indecent act which occurred on the SkyTrain.
On February 8, 2016, at approximately 12:30 pm, a 15 year old girl and several girl friends were travelling on the SkyTrain from Surrey to downtown Vancouver. A man boarded the train at Main Street Station and stood in front of the teenagers. He unzipped his pants, exposed himself and committed an indecent act. Both the teens and the suspect got off the train at Granville Station.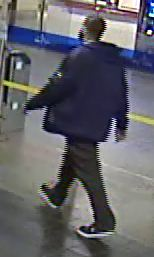 The suspect is described as a dark skinned male, 30 to 40 years, 6 feet 2 inches tall, broad shouldered, heavy build, dark buzz cut hair, short dark beard, wearing dark blue sweater, possibly a blue vest over a long sleeved black shirt, dark jeans and black shoes. Photographs are attached.
Anyone with any information concerning the identity of this suspect is asked to call Transit Police at 604-515-8300 or text us at 87 77 77.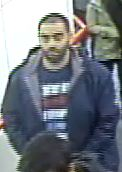 Refer File #16-2263
Transit Police is committed to maintaining order, promoting safety and reducing crime on the transit system in Metro Vancouver.