One Man Arrested and Charged in SkyTrain Robbery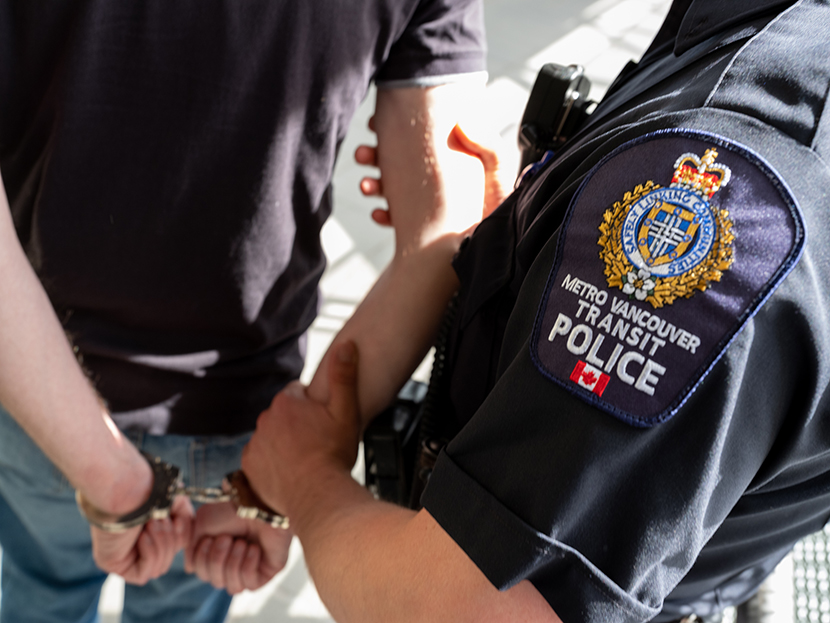 New Westminster – Metro Vancouver Transit Police have identified and arrested a suspect believed to be responsible for a violent robbery on SkyTrain.
At approximately 9:10 pm on Tuesday, March 30, 2021, a SkyTrain Attendant asked a man to step off the SkyTrain at 22nd Street Station in New Westminster, as there was visible vomit on his clothes and the floor. The man took exception to this request and began threatening the attendant and hurling racially charged expletives at him.
The suspect then entered another train car and turned his racially-charged tirade toward a passenger there, allegedly demanding that the passenger give him all of his money. When the passenger told the man he didn't have any money, the suspect came within inches of the victims face, allegedly, stating something to the effect of "give me your headphones… don't make me stab you with this screw driver", though no screwdriver was seen.
When the train arrived at Royal Oak Station in Burnaby, the victim tried to take a photo of the suspect, who was now walking away. This enraged the suspect, who forced open the doors of the elevator where the passenger had taken refuge. The suspect then allegedly violently punched the victim upward of 30 times before stealing his headphones and leaving the station.
At approximately 9:25 pm, the suspect returned to Royal Oak SkyTrain Station, where he was arrested thanks to assistance from the Burnaby RCMP. Arrested and charged with one count of Robbery and Uttering Threats is 31-year-old Clinton SEBASTIANO of no fixed address, who is well known to police. SEBASTIANO has been remanded in custody and his next court appearance is scheduled for April 7th, 2021, 9:30 am in Vancouver Provincial Court, via video conference.
"Everyone has the right to travel on transit feeling safe. Violence in any form will never be tolerated. If you experience or witness anything that makes you feel unsafe, especially if it appears to be fueled by racism or hate, let Transit Police know immediately." – Sgt. Clint Hampton
Text us directly and discreetly at 87.77.77 or call us at 604.515.8300. See Something, Say Something!