Arrests made following unprovoked attack near Surrey SkyTrain station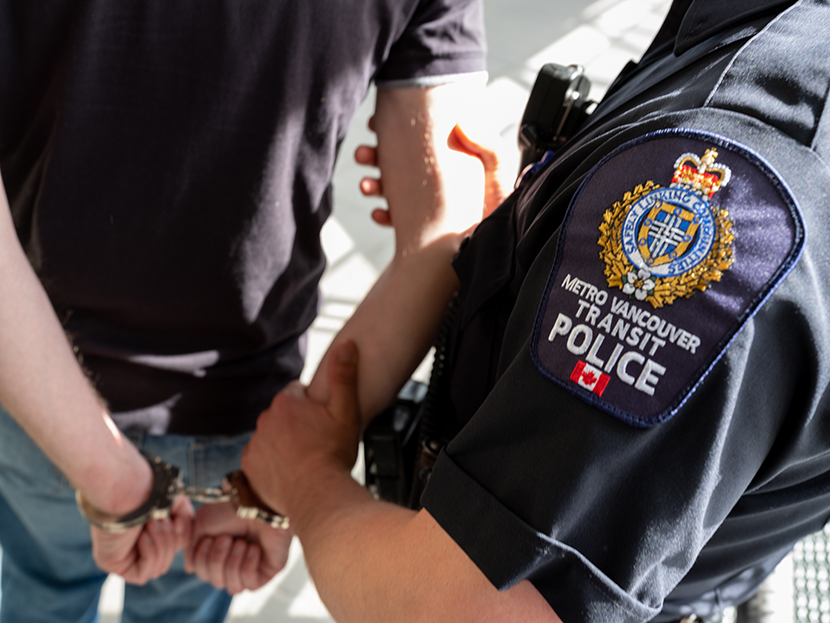 New Westminster – The investigation of an attack on three men near a Surrey SkyTrain station resulted in three arrests and led to the fruitful execution of a search warrant by the Metro Vancouver Transit Police General Investigations Unit and Crime Suppression Team.
On Wednesday, June 21, 2023, just before 9:00 p.m., Transit Police responded to a call near Surrey Central SkyTrain Station, following an alleged unprovoked attack on three men. Allegedly, one victim was stabbed in the back, another victim was stabbed in the chest, and a third victim was struck in the head with an object and bear sprayed in the face. Emergency Health Services (EHS) attended and transported two of the victims to hospital for treatment. All three men have since physically recovered from their injuries.
Following an investigation, Transit Police arrested three suspects, and charges of aggravated assault, assault with a weapon, and possession for the purpose of trafficking will be recommended. All three suspects have since been released with several conditions pending their next court appearance.
In addition, as a result of the investigation, on July 5, 2023, Transit Police executed a residential search warrant with the assistance of the Surrey RCMP Crime Reduction Unit where the following was seized:
Four firearms of varying caliber, some with illegal modification
Ammunition of varying caliber
Bulletproof body armor
Illicit drugs, packaged in a manner consistent with trafficking including: 195 grams of fentanyl, 176 grams of crystal methamphetamine and 57 grams of cocaine
3D printer
Ammunition press
Approximately $10,000 in cash
An improvised explosive device
"We hope that the outcomes in this case serve to demonstrate that anyone responsible for violence on or near the transit system will be held accountable." – Constable Amanda Steed, Transit Police
"Ensuring public safety is our common goal; Surrey RCMP and Transit Police work together every day to achieve this. We are proud our close partnership lead to the quick identification, location, and arrest of this suspect, as well as the seizure of drugs and weapons" – Staff Sergeant Nigel Pronger, Commander of Surrey RCMP's North Community Response Unit.