Metro Vancouver Transit Police Bike At Work!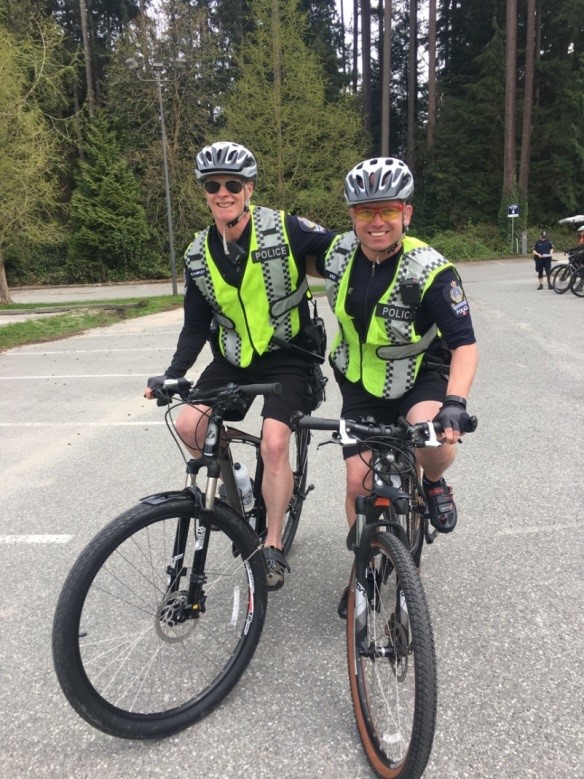 It's Bike to Work Week but did you know Metro Vancouver Transit Police Officers also conduct patrols using bikes at work? In 2017, Transit Police launched a Bike Program pilot project following an invitation to participate in cycle training with The Vancouver Police Department (VPD) Bike Team.
Building partnerships with local jurisdictional police is integral to our Neighbourhood Police Officer (NPO) Team and training together for a full week created strong and lasting relationships. However, the project's main goal is to increase high police visibility in the Community Service Areas, defined in our Service Delivery Model.
What is Transit Police hoping to achieve?
Adding bike patrols into Transit Police's regular 'on the beat' patrol schedule supports the objectives of the Transit Police Strategic Plan, including:
Reduce Crime and Disorder
Improve Feeling of Safety for Transit Customers and Staff
Improve Understanding of Needs of Transit Customers and Staff in Order to Care for and Keep Them Safe
Protect and Assist Vulnerable Persons
Engage in Innovative and Efficient Methods to Anticipate Transit Growth, Social Change and Regional Community Safety Issues
Becoming more mobile has enabled our police officers to patrol to a greater extent in the surrounding areas of SkyTrain Stations and Bus loops. This has increased police presence, given our officers greater opportunities to interact with the public and also improve community partnerships with local businesses.
Riding bikes in their CSA will also help the NPOs build on their connection with Transit Operators and the Transit Security Bike Patrol team.
By the end of the summer, a total of seven Transit Police Officers are set to be cycle trained.
Learn more about the Transit Police Bike Program this Friday
This Friday, June 1, NPO Cst. Julien Ponsioen will be at Robson Square from 3pm to 6pm. Stop by to register your bike with 529 Garage for free and let your child ride a Transit Police bike.
Our partners at 529 Garage allow you to register your bike along with thousands of fellow cyclists who can keep a watchful eye on your bike if you do experience a theft.
Children will also have the opportunity to ride a Transit Police bicycle (with flashing lights!) through a course that will give them a taste of the training our officers go through. So bring your child down to become a certified junior bicycle officer.
Follow Cst. Julien Ponsioen on Twitter