New Westminster – A string of distraction thefts along the Canada Line has resulted in the arrest of two suspects by the Metro Vancouver Transit Police.
Since July 13, 2018, Metro Vancouver Transit Police has been made aware of and initiated investigations into a total of 10 incidents, where passengers travelling the Canada Line have become the victims of two men and a woman using sophisticated distraction techniques and sleight of hand to commit personal thefts within Canada Line stations.
All these incidents are very similar in that one or more people from the group offer their assistance to the victim at the ticket vending machines, passing themselves off as Good Samaritans. Their actual motivation is getting close enough to watch the victim enter their personal identification number (PIN), associated to their credit or debit card, while purchasing their transit fare-media.
Once the victim has entered their PIN and successfully bought a valid fare, other members of the suspect group follow the victim and then distract him or her in a well-choreographed routine. This may be a bump or nudge or engaging the victim in conversation. The suspect then steals the victim's wallet or purse. Once in possession of the victim's debit or credit card, it is used to remove large sums of money and make substantial purchases. In some cases, losses have been in excess of $5,000.
On July 21st, 2018, at approximately 2 pm, Metro Vancouver Transit Police officers, on patrol in the Yaletown Canada Line Station, spotted a man and woman they recognized from a police bulletin as suspects involved in the distraction thefts.
Arrested was Ricardo OPREA, 31 years and Alina RADUCANU, also 31 years. It was determined that both OPREA and RADUCANU were wanted on Canada-Wide Immigration Warrants and were remanded in custody pending immigration hearings.
RADUCANU appeared for her immigration hearing on July 26th, 2018 and was released. She was arrested by Metro Vancouver Transit Police officers as she left the hearing, interviewed and released the following day on a Promise to Appear in court, in Vancouver, on October 11, 2018. Charges of theft are pending.
OPREA appeared for his immigration hearing on July 31, 2018 and was remanded in custody until a second immigration hearing on August 28, 2018.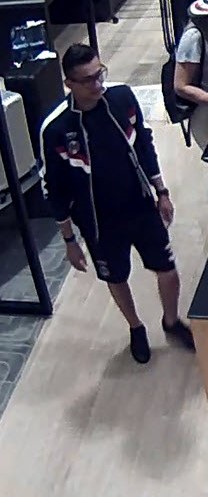 The third suspect was spotted on video jumping on a train at Yaletown Station while the officers were dealing OPREA and RADUCANU. He has been identified as Auras Yanis RADUCANU, 30 years, for whom there is also an outstanding Canada-Wide Immigration Warrant. Auras RADUCANU is believed to be the husband of Alina RADUCANU and is described as an eastern European male, average height, slim build, short dark brown hair, brown eyes and dark framed glasses. (Photos attached)
Anyone with any information as to the whereabouts of this suspect, or who believes they may have been the victim of a similar incident, is asked to call the Metro Vancouver Transit Police tip line at 604-516-7419 and refer to file #18-13497 or text us at 87 77 77.
****Also below is an edited video, "Anatomy of a Distraction Theft", of one of the incidents involving these three suspects. This incident occurred at Broadway-City Hall Canada Line Station on July 15, 2018.
Transit users are reminded to be aware of their surrounding, to always cover the keypad when entering their security PIN and to report anything suspicious to the Metro Vancouver Transit Police as soon as possible. The safety and security of our passengers is our number one priority.