Man Arrested on 8 Outstanding Warrants after Piggybacking Through Fare Gates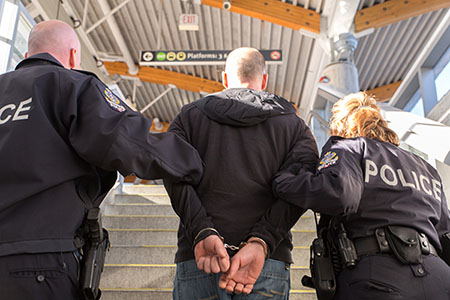 A man who decided to piggyback through a fare gate, in plain view of police officers, clearly didn't consider the consequences of his actions.
On January 17, 2018, at approximately 12:30 pm, Metro Vancouver Transit Police Officers on patrol in the Vancouver City Center Canada Line Station, spotted a man follow another passenger through a fare gate without tapping fare media. When stopped by the officers, the man advised he did not have a valid fare. When checked on police databases, the man was found to have a total of eight outstanding warrants, from five different jurisdictions in the Metro Vancouver area, for Theft Under $5000, Possession of Stolen Property and Breach of Undertaking.
Arrested was, Walter Craft, 53 years of age, of no fixed address and well known to police for similar offences. Craft has made his first appearance in Vancouver Provincial Court and been remanded until his next appearance on January 25, 2018.
It's evident that CRAFT gave no thought to the consequences of piggybacking through a fare gate in front of Transit Police officers. This offence normally carries a $173.00 fine but, when you have outstanding warrants for your arrest, your destination will always be jail.
Text us directly and discreetly at 87 77 77 or call us at 604-515-8300. See Something, Say Something!